How to Write A Rhetorical Analysis Essay Outline?
April 10, 2017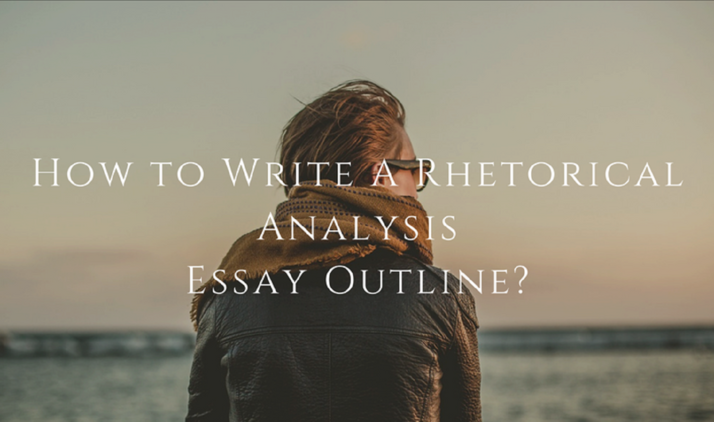 What is a rhetorical analysis essay? A rhetorical analysis essay is an exploration of another work. Most are on other written works. However, a rhetorical analysis can be written about a speech, television show, movie, play, even an art installation.
These essays, specifically analyze the use of rhetoric in the works that they explore. Rhetoric is the study of the use of language as a tool of persuasion. It should be noted that language refers to written, spoken, and visual communications as well. It may be a good idea to check out a rhetorical analysis essay example for more information.
When writing a rhetorical analysis essay you explore the kinds of rhetoric used in your subject, the intent of the creator, and whether or not their efforts were successful. Because you are critiquing a work that has usually been deemed fit for public consumption, credibility is important. Your thoughts must be thorough, organized, and well-written. The best way to ensure that is to start with an outline. This is an important starting point when learning how to write a rhetorical analysis essay step by step.
The Benefits of Writing an Outline
There are many benefits to writing an outline before diving into any kind of essay. However, writing the outline becomes even more important with this kind of an essay. You can be sure that if you read a good rhetorical analysis paper example, the author started with a well-organized essay.
Here are some benefits to writing an outline:
The points you are making that aren't quite up to snuff will really stand out.
Your best points will stand out as well.
It's easy to modify the sequencing of your ideas in an outline, but not so easy when your essay has been written.
You can ensure that each of your main points have enough supporting arguments behind them.
If your instructor hasn't specifically told you to write an outline, or it isn't included on your rubric don't skip it. Your final product will be much better.
Selecting Rhetorical Analysis Topics
If you have been given free reign to select your own topic, this is a good thing. There are so many options to explore. Rhetorical analysis essay topics can cover a wide variety of subjects. It's best to choose a topic that is interesting enough to you, relevant to your class, and that will hold your audience's attention as well.
For inspiration, here are some potential sources for essay topics:
Famous Political Speeches
News And Magazine Articles on Current Events
Documentaries
Classic And Modern Essays
Film And Television Shows
Religious Texts
Keep in mind that in order to write a rhetorical analysis, you have to pick a work that uses rhetoric fairly extensively. If you can't answer the question 'what is the creator of this trying to sell their audience?', you probably don't have a good topic for your analysis. Remember that some of the best rhetorical analysis essay examples that you will find on an essay writer service, are on fairly controversial topics.
How to Start Rhetorical Analysis Essays: Your Outline's Introduction
Let's move onto how to start a rhetorical analysis essay outline. This step is extremely important, because this will lay the foundation for your introductory paragraph. This is the paragraph that will get your readers interested in what you have to say, and more importantly, where you will reveal your thesis statement.
This part of your outline should include a compelling introductory statement. This could be a compelling fact or anecdote. Then, you can lead into what your topic is. The last line item of this portion of your essay should be your thesis statement.
Laying Out Your Body Paragraphs
Each body paragraph should have it's own numbered entry in your outline with lettered supporting points underneath. You can add sub points beneath those if you need to. Remember that every body paragraph should contain a single main point that is supported by your sub points.
When you write the essay itself, you can break each point into more than one paragraph if it makes sense to do so. However, for your outline it isn't necessary to break things down to that level.
Once you have your points and supporting arguments down, it's time to consider the sequencing. Are you building up a strong overall argument that will convince readers of your point? You could try starting with your least compelling argument and ending with your most. Try out different things, then go with what is best.
The last thing you'll want to do is take an honest look at your supporting arguments. Are they all worthy of making it onto your final essay? If you are going to change your mind, now is the time. If something just doesn't support your thesis the way you would like, go ahead and scrap it. Don't forget to go back to your notes if you need to find another point to add.
Setting up a Powerful Ending: Your Conclusion
Finally, this is where you will outline the points you will make in your concluding paragraphs. One mistake that many students make is to restate the arguments you had made previously. Don't do that. Your readers already know these things. Instead, focus on showing how each piece of evidence you have shown combines together to prove your thesis statement.
Here's an example. Let's say that you're writing a rhetorical analysis on a political editorial from radio host. Your thesis is that the radio host used rhetoric to exploit fear and prejudice in their audience. Here are the points you used to support this:
They referred to the politician using their very ethnic sounding middle name instead of the name the politician uses.
They used frightening statistics about the area where the politician is in office, but your research shows that nothing the politician did impacted those issues.
They shared a flattering but irrelevant anecdote about the politician's challenger in the next election.
What you don't want to do in your outline is to simply list those points again. Instead, make a final statement about how the totality of the host's words were intended to manipulate the audience and obfuscate facts.
Conclusion
Bookmark this page. The next time you're faced with a complex rhetorical analysis assignment, this post could be quite useful to you.